What is CFA?
CFA is more than just a school. It's a home for your family.
We want your kids to be able to grow up in an environment that's God-loving, passion-driven, and purpose-oriented. We believe that we shouldn't let other people take control of our own children's education. We want only the best for them. That's why we have Catholic Filipino Academy, or CFA. CFA was founded in 2005 by Bo Sanchez, renowned best-selling author and speaker, after he saw the benefits and blessings of homeschooling his own kids.
Create your CFA Playground account to learn more.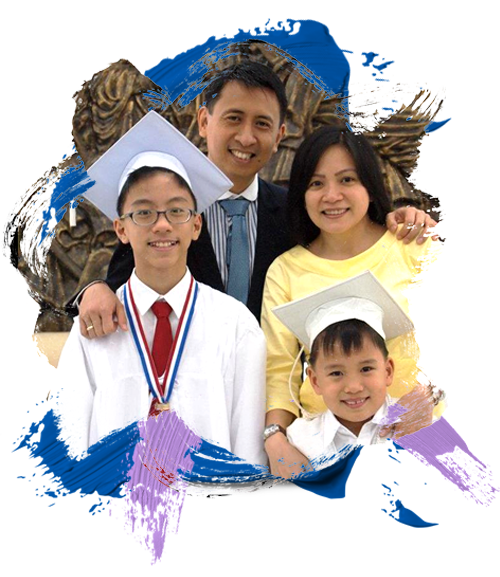 Not Just a School
At CFA, your kid will learn to love God, study at his own pace, and get great grades too! People often ask us, "Isn't it lonely for the child, without classmates?" We beg to disagree.
CFA is one of the few homeschooling providers in the Philippines that has regular events, fun field trips, and meet-ups that help build healthy social lives for our students. We have Elementary and High School orchestras, sports activities, music classes, Math enrichment classes, retreats, classes for preparing kids for the Sacraments, and many other activities for your kids.
Parent and Child Activities
We also have activities that help you build your relationships with your children, such as our Family Camp.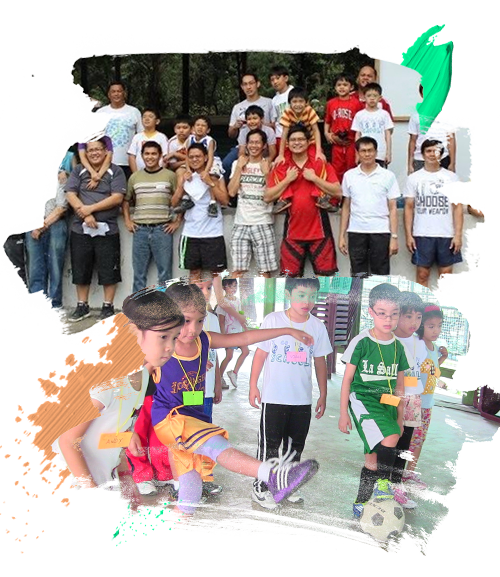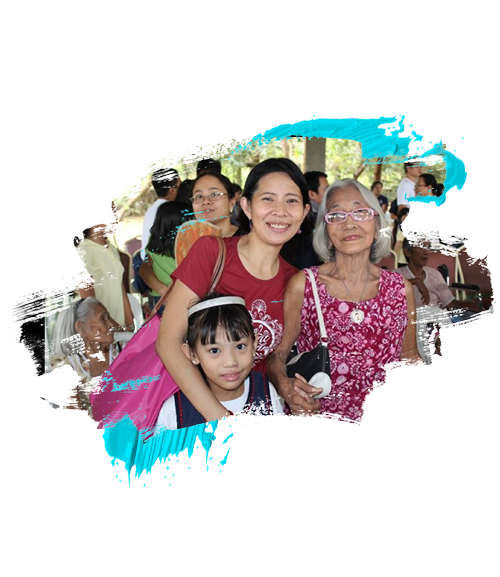 Service to Others
At CFA, we value service to others, which is why we have regular outreach activities to places like Anawim, one of the Mercy Ministries supported by Bo Sanchez. We believe that building character is key to our children's development.
Hands-on Life Experiences
We also emphasize the importance of entrepreneurship, especially among our high school students. We believe that being business-minded is one of the skills that is needed for building our country.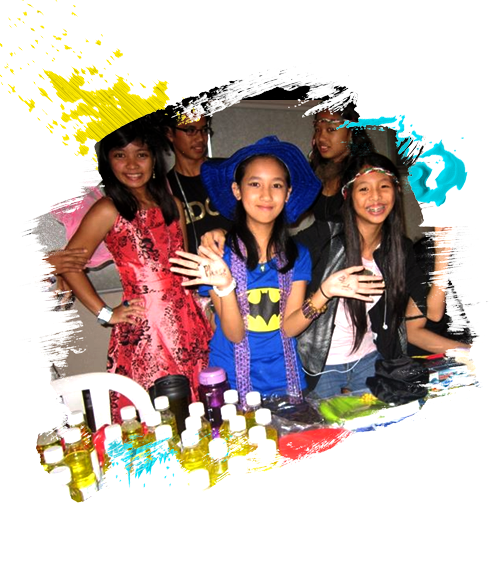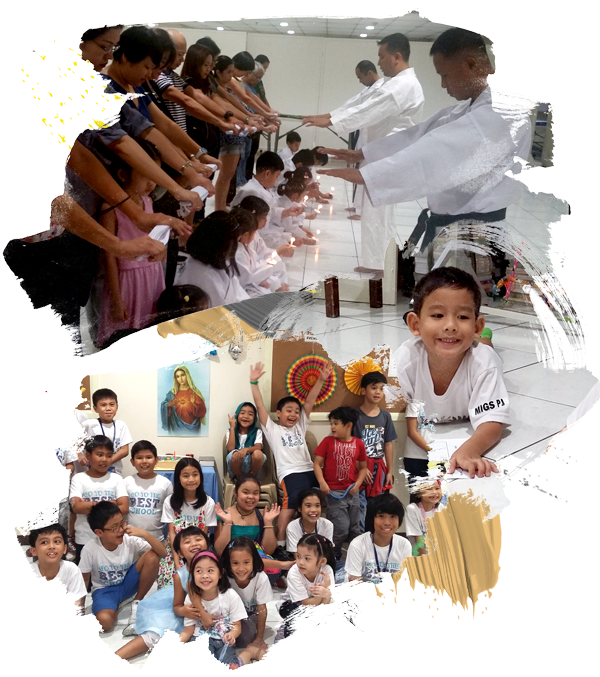 We are a Family
Because of this, at CFA, our students don't just have classmates, they have a family that they can call their own. Not only that, they learn to value service to God and to others, plus appreciate and put into practice the principles of hard work.


Are you ready to enroll your child
in the best school in the world?
We are the best school in the world, helping your child learn right in the comfort of your own home, at your child's own pace, harnessing your child's passions, towards the purpose that God has for your child.
Inquire Now!
What we offer
Our preschool, elementary and high school programs are designed with 10 years of experience and are critically constructed for a passion-driven and God-centered education for your child.
Ages 3 to 6 years old
Preschool
Nursery to Kinder 2
Parent coaches to guide you in your homeschooling journey
Access to curriculum and materials that your child will need
A full-blown orchestra that your child can join
Weekly club activities, events and field trips for your child!
A Reading Program for ages three and above to help jumpstart your child's learning
Ages 6 to 12 years old
Elementary School
Grade 1 to Grade 6
Parent coaches to guide you in your homeschooling journey
Access to curriculum and materials that your child will need
A full-blown orchestra that your child can join
Weekly club activities, events and field trips for your child!
Ages 12 to 18 years old
Junior and Senior High School
Grade 7 to Grade 12
Access to curriculum and materials that your child will need
A full-blown orchestra that your child can join
Events, field trips and other fun activities
Wednesday Meetups (Junior High) — for the tougher subjects, clubs and just hanging out
Tuesday Meetups (Senior High) for core and major subjects with education experts and industry practitioners as mentors.
10 Core Principles from Bo Sanchez
Save Money, Get More Free Time, Strengthen Your Family, Reduce Stress, Protect Your Children From Harm— Plus Get DepEd Accreditation— All At The Same Time.
Click here to learn how!
Frequently Asked Questions
Gosh, I'm an ordinary mother. Can I really homeschool?
You're homeschooling right now. Who taught your child to walk, to talk, to eat with a spoon, to kiss, to hug? You did that. We believe any parent — who feels called to homeschool, is committed and convicted to doing so, and is willing to learn how to do so —can homeschool their child.
What's the minimum age requirement for enrolling at your school?
For Grade 1, it's usually 6 years old. DepEd requires at least 1 year of preschool, so you may enroll your child with our Preschool program when he or she is 5 years old (or younger — we now accept Nursery students or kids who are aged 3-4 years old). We follow the K-12 program of DepEd, so this includes our high school program.
My son is already in Grade 5. I'm afraid he won't like it if I pull him out of his regular school.
For older children, they need to agree with your decision to homeschool. Explain the benefits! Tell them that they can pursue their passions, have adventures, pursue businesses, etc. Discuss these with them and try to make a decision together.
What if I'm a working mom? Can I possibly homeschool?
We encourage at least one parent (the teaching one) to be home fulltime, or at least work only part-time, so that she can focus on homeschooling her child. But yes, you still can homeschool even if you're working. You can find out more about this by attending one of our orientations for parents.
Am I expected to teach algebra to my child?
You can do research and you'll be amazed at the available books and resources on the Internet about simplified ways to teach difficult subjects — and more amazed that you'll be able to do it! Or you can consult the parent coach who will be assigned to you about this.
My child has autism. Will homeschooling work for him?
Homeschooling can be the best option for children with special needs, BUT this actually depends on your child's particular needs and the recommendations of the specialists that you need to consult. CFA has connections with a Special-Education consultant. We accept children with special needs, depending on the recommendation of the SpEd consultant and the child's doctor or therapists.
Can I start at any month? Or does it have to be June?
CFA follows the June to March school year.
Field Trips More Often
We went to the Museong Pambata three times and stayed there the whole day. My son repeatedly explored every section on his own. This developed my son's interest in science and history. So, together, we visited various museums of science, natural history, and zoos.
Gentle Firmness
In my nine years of homeschooling, I have learned that using fear and punishment crushes a child's spirit. This deeply hurts a child and diminishes his self-worth. My children have responded better when they are gently but firmly told of their mistakes and what are expected of them. They obey us not out of fear, but out of love and respect. This is borne out of our love and respect for them.
How My Kids Love To Read
When I started home schooling my eldest son "J", we always read fiction books together with his two younger brothers, John and Jaimy. Soon after, he learned how to love reading all sorts of books — even encyclopedias. After a few months, his younger brothers followed him and they now enjoy reading books together.
Want to start your homeschooling journey with us? Call us at
0917-1834778
You can also email us at support@cfa.edu.ph
Send us a DM at fb.com/CFAHomeschool